2017 Teacher Workshops for a Brain-Based Approach to Teaching
"Your workshop changed the way I approached our staff learning this year, and wow, what a difference. I do not have the same tired staff that I did last year, and we have accomplished great things with our own learning that has positively impacted our work with kids in the classroom. Your book, Teaching With the Brain in Mind, forever changed how I viewed kids and learning, and your sharing of how we approach staff learning empowered me to change how I work with my staff in that capacity. Thank you for continuing your work, and for sharing this, as you have been a wonderful force in positively impacting my career! – CM, Principal

June 19-21, 2017 San Antonio, TX-Sold Out
June 22-24, 2017 San Antonio, TX
July 10-12, 2017 San Antonio, TX
July 17-19, 2017 San Antonio, TX

This amazing and innovative 3-day event gives you the insider background knowledge, key skills and practical roadmap for academic success with kids from poverty. You'll understand poverty in a revolutionary new way. Get secrets to intervene in positive changes that can skyrocket achievement scores.
Omni Colonnade, San Antonio, TX
(See "Hotel and Travel Details" for sleeping room information)
Keep Your Day Job and Turbo-Charge Your Career for Financial Freedom in Just 3 Short Days!
Join Us July 13-15, 2017 in San Antonio, Texas for  powerful 3-day event
with a career changing opportunity in mind. Is this event for you? Let's find out.
All trainings are conducted by Eric Jensen (in person), not a colleague, trainee, or substitute.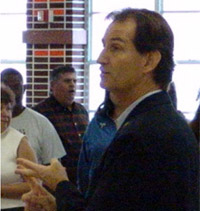 Eric Jensen has been a leading authority on the science and applications of brain research in education for more than 15 years. He is a former teacher who has spoken at national and international conferences and taught as adjunct faculty at three universities. Jensen is a longtime member of the invitation-only Society for Neuroscience and President's Club at the prestigious Salk Institute of Biological Studies in La Jolla, California.
Jensen authored Teaching with the Brain in Mind, Enriching the Brain, and 23 other books on learning, the brain, and teaching. He's currently completing his PhD in Human Development.
What will make the single biggest difference in student achievement at your school?
It is the quality of your teachers.
What strengthens the competency and morale of your teachers?
…It's top-quality, ongoing professional development.
That's what you get at Jensen Learning Workshops.
You'll get:
An accomplished world renowned trainer who has authored more than25 published books, 10 published articles and won multiple awards.
A High-energy, specialized trainer who role models each strategy so you can see and hear how it works.
A high quality course manual with 100+ pages for complete detailed records and follow-up.
A 100% satisfaction or money-back guarantee.
Jensen Learning Teacher Workshops Boost Student Learning And Engagement With 100% Research-Based, Highly Practical, Classroom Tested, Brain-Based Teaching Tools.
Brain-based learning is the purposeful engagement of strategies based on the new interdisciplinary mind/body science.  It is based NOT on myths or politics, but real neuroscience. Jensen Learning brain-based workshops are packed with tons of real world solutions you can use immediately!